Security windows make it hard for burglars. The average homeowner, when thinking about ways to improve their home security, will often secure doorways and large entrances first.
However, windows are just as vulnerable as doors when it comes to theft and home invasion. Additionally, regular window screens are weak, often made of plastic or cheap metals, and won't stand up to a break-in. With windows in nearly every room of your home, that makes for a lot of vulnerabilities.
Diamondback Security's Fixed Security Window Screens
Sliding Windows, Double Hung Windows, Picture Windows & Arched Windows
Leaving windows open on cool days or nights is a perfect way to bring some fresh air into your home and lower the temperature without using the air conditioner. However, it can be a scary prospect when property crime is such an epidemic in our city. With Crimsafe security screens, you can leave your windows open and let air in while still staying safe and secure. Diamondback Security Solutions offers Crimsafe screens that can fortify nearly any window in your home and will protect you against criminals.
All Crimsafe security windows use the unique screw-clamp system. Tamper-resistant screws go through a metal clamp, then through the Tensile Tuff security mesh and grip right into the frame. This holds the mesh in a vice-like grip which gives it enormous strength against attack. The Crimsafe screw-clamp design and the thickness and toughness of our 304 security screens deter most any intruder.
SAFE-S-SCAPE
Crimsafe Safe-S-Capes are keyless emergency exits for windows. They let you quickly exit in a fire or other emergency, but they are just as hard to penetrate as all our other products because they feature Crimsafe's screw-clamped mesh as well as a triple "anti-crowbar" design that protects the lock.
With Safe-S-Capes installed, you'll have peace of mind knowing that your home is as secure as it can be from the outside, but you can exit in seconds if the need arises.
Our hinged Safe-S-Capes swing out from your house and accommodate a wide range of windows behind them. They can be fixed as an integral part of sliding windows, or face-fixed to louvers and double hung windows.

FIXED WINDOW SCREENS
Our fixed panel windows are non-moving panels and are often the best option for securing louvers or sash windows, provided these windows do not form part of an emergency exit procedure.
HINGED WINDOW SCREENS
Diamondback Security Solutions has hinged window screens that are hinged along their sides or top to swing outward or inward. They are ideal for single and multi-panel sliding windows, double hung windows, single and multiple hoppers, casement windows, louvers, and fixed and sliding combinations.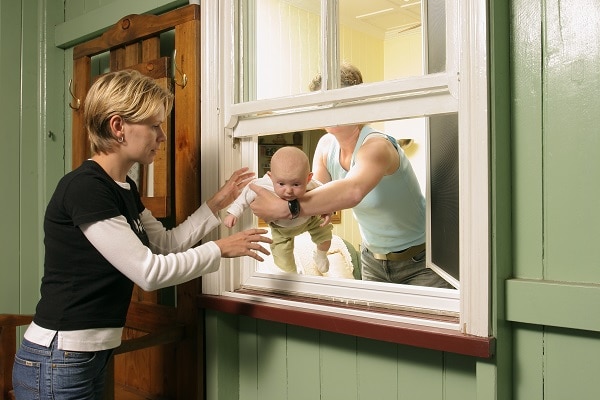 EMERGENCY EXITS
We offer windows with Safe-S-Capes, a keyless one-touch emergency exit system that secures your windows against intruders, but still allows you to get out quickly and easily if you need to.
Affordable Security Screen Windows
Install window screens that look gorgeous and keep your home safe. Diamondback Security Solutions uses the highest quality Crimsafe security screens. These are highly resistant to tampering and help secure all access points to your home. Call us today for a free estimate and in-home consultation.
You can check out Crimsafe here