The Strongest security screen doors in Phoenix.
DIAMONDBACK PROVIDE YOU WITH VERSATILE SECURITY SCREEN DOORS THAT ARE NOT ONLY SAFEST IN CLASS, BUT THEY LOOK GREAT TOO!
Security screen doors from Diamondback are versatile. additionally, fitment comes in a variety of different doors shapes and styles.
Our security screen doors are manufactured by Crimsafe and are constructed entirely in the USA.
Cost-effective security screen doors.
The strongest security screen doors Phoenix has to offer!
Installing security screen doors is a great way to protect your home and family from unwanted intruders. But many homeowners are concerned about the cost of these doors. This worry prevents them from taking steps towards greater safety for themselves and their loved ones.
Diamondback Security offers affordable security screen doors in Phoenix, AZ that can be installed quickly and easily with minimal disruption to your daily routine. Our custom-made screens come in a variety of frame colors so you can choose one that compliments your home without detracting from it. We also offer free consultations on all our services.
Benefits of security screen doors
We believe security screen doors are a necessity for homeowners in Phoenix. Unfortunately, many people don't understand the true benefits of having security screen doors installed in their homes. Here are just a few benefits:
Deters burglary and home invasion
Provides fresh air
Cuts down on air conditioning costs
Keeps pests out
Protection from wild animals
Helps block rain and hail
Stops airborne debris
Cuts down on dust, dirt, and pollen
Beautiful curb appeal
Will not rust or corrode
Sliding security screen doors
Sliding glass doors are beautiful, but they can be a serious security weak point as well.
Traditional sliding glass doors don't offer any kind of security at all. Anyone who wants to break in your home can do so without much effort by breaking the door or simply opening it from the inside.
Diamondback Security offers sliding screen doors that will eliminate any worries that come with having a traditional sliding door. The best part is that our products are made right here in America using high-quality steel materials and premium-grade hardware which means you'll never have to worry about them failing on you when you need them most! We also sell custom-sized units if needed so no matter what size doorway or window frame we've got you covered!
Security, safety, and so much more
Investing in Diamondback security screens means you're not just investing into the best hardware available, but also adding a host of other benefits.
Fresh air & breezes
Live the good life with a fresh, cool breeze flowing through your home without compromising on security.
Insect protection
Keep your family and home safe from unwanted visitors such as flies, mosquitoes and especially burglars.
Unhindered views
No need for bars and grilles. With Diamondback, you get the unrestricted views of open space without any obstruction in sight.
Energy efficiency
Crimsafe's Tensile Tuff® mesh blocks up to 53% of solar heat gain and 62% UV rays, making your home more energy-efficient. With Crimsafe you can easily enjoy a comfortable day all year round!
WILDfire protection
Crimsafe provides the highest level of protection from ember attack, radiant heat and burning debris damage to glass.
Storm protection
Crimsafe provides extra protection during a storm and is the perfect solution for those who want to be safe from hailstones, wind-borne debris, as well other environmental dangers.
Secure your home today. Call us for a free estimate and in-home consultation.
Highest quality security screen doors available in Phoenix
Security screen doors are an integral part of your home security system. They provide protection against intruders and help keep you safe when you're at home or away.
Call us today for a free estimate and in-home consultation. We look forward to working with you.
Hinged doors
Our hinged screen doors secure the main entry points of your home, keeping your family safe inside and keeping unwanted visitors out.
Our screens allow light and air to flow naturally through your home, while still giving you comfort that you have a strong barrier between you and any potential burglars.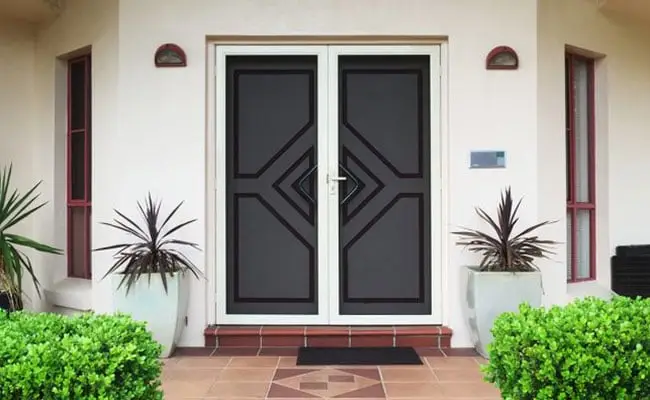 Sliding doors
Our single, double, or triple sliding security screens can secure even the widest openings.
Our screens exceptional strength makes bars and grilles unnecessary while increasing airflow, protecting your views, keeping bugs out, and creating a sense of open space in your home.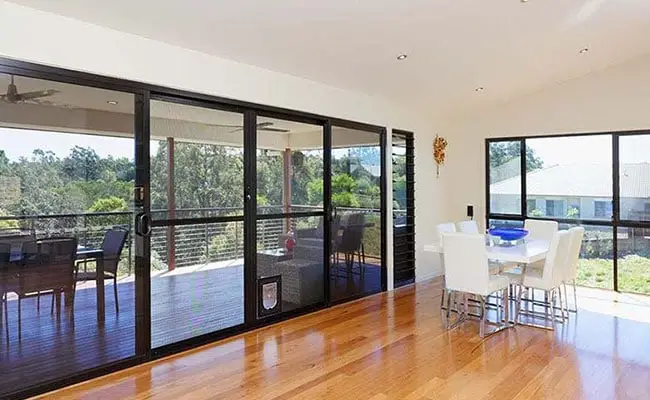 Stacking doors
Diamondback Security's stacking security screen doors allow you to open your room to create a large open living space, free of bugs but full of light.
Each security screen panel glides behind and interlocks with the next one, finally sliding behind a fixed panel for maximum security and a stylish, streamlined look. They can be stacked neatly and effortlessly to either the left or right for maximum convenience.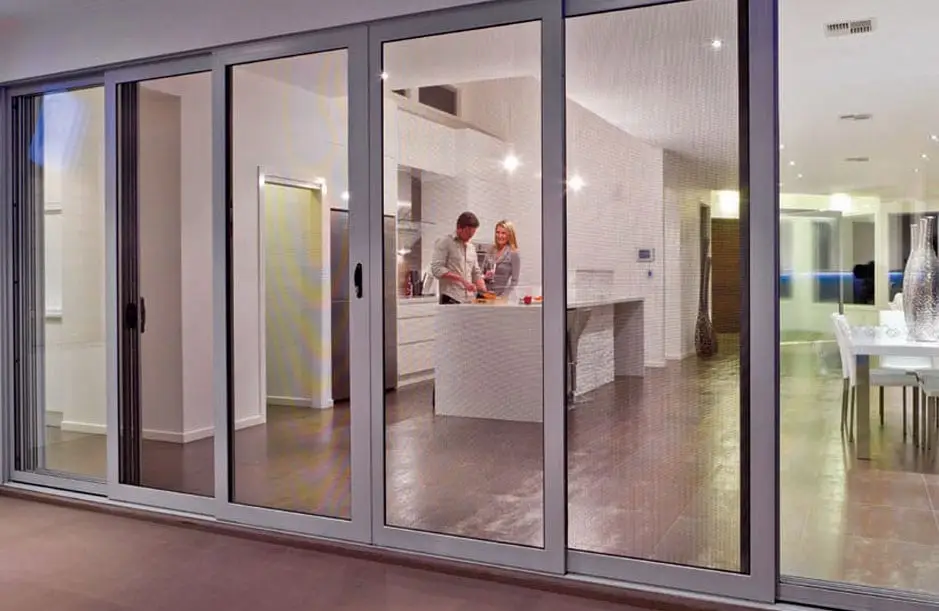 Bi-fold doors
Our bi-fold security screen doors provide a multi-panel hinged door that can secure extremely wide openings.
Our bi-fold doors can open an entire wall of your home and can be hinged so they fold to the inside or outside. Therefore they can be installed as existing glazed bi-fold doors, or as a stand-alone security screen solution.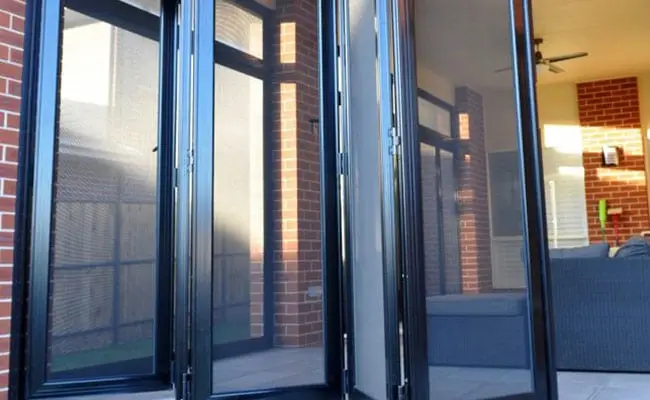 French doors
French doors can be an easy access point for criminals. And Diamondback Security's double French door security screens have been designed to secure your doors without detracting from their visual appeal, and still allow light to flood in.
Our French doors have locking mechanisms at the top and bottom for exceptional strength and can open inward or outward for maximum convenience.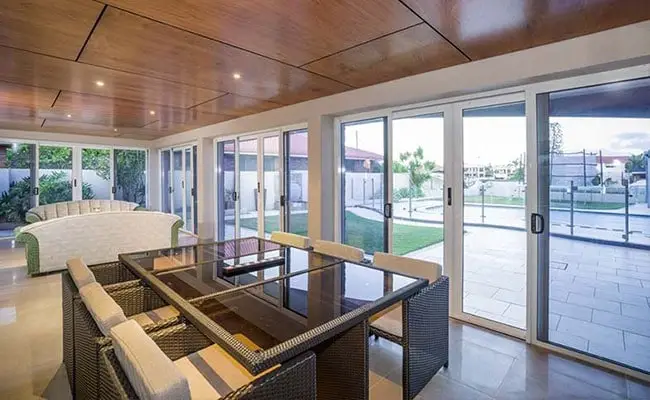 Color options
At Diamondback Security, our products come in a wide range of colors, with custom colors available by request.
They are also available in woodgrain and anodized finishes so whatever your design preference, we have the products to enhance your home's decor.
*Colors are an indication only, as they may appear slightly different on paper or on the screen to the actual powder coated colors.
Have a look at more information on home security.

Call us today for a free estimate and in-home consultation.